Trial Quick Start Guide
Welcome to Essential Skills! Here are some options for getting started with your free trial.
Have students log in and start using the programs immediately with the student passwords provided following sign-up.
Use the Teacher Login provided to assign a pretest that will individualize the selected program for each student. (Watch this 5-minute video to learn more.)
Add more classes/teachers using the supplied Admin login. (see below)
Note: It is recommended that you use the Teacher Login instead of the Admin Login for everything other than adding classes/teachers.
Adding a new class/teacher
Enter your School ID on the School Login page, and click the "Admin" icon.
Enter the Admin username and password provided, and click the "Login" button.
Click on the "Classes" icon, and select the preferred option for adding your class(es).
Adding Students
Upon successfully creating a class, you will be prompted to add a list of students. You can paste a list into the field provided, or add students by typing their name, and hitting enter. You will have some options for student login names and passwords. By selecting "Single" in the passwords section, you will be asked to enter a single password that will be used by all students. You can also choose "None" to allow students to login without a password.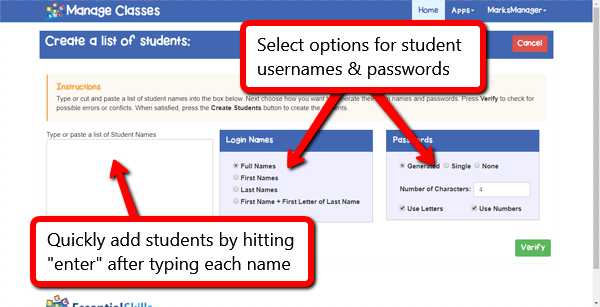 Note: You can edit student passwords by clicking the "Students" icon on the home screen, selecting a class, clicking the orange "Edit Students" button, and entering the new passwords into the password field for each student. You can hit enter after inputting each password to quickly move to the next field.
Have a question? Give us a call 1-800-753-3727, or email us at support@essentialskills.com